Ijsbrand Kaptein
A small intro
The now 60-year-old, from Akersloot, has been a well-established name in the Marathon pigeon world for decades. He won a lot of early prizes on the flights above 900 km and stood continuously on the podium of several big competitions together. Kaptein is a carpenter. For several years he has been servicing the well-known family Brügemann from Assendelft, who have a cheese trade. From the time he was 12 years old, he already started with pigeons. He came into contact with the pigeon sport via a cousin who had pigeons. Ijsbrand's pigeons have always resided at the current address.
He still lives on the site of his family home. At this address where first the cows were stalled, at the beginning of the '90s of the last century, its a beautiful house. A farm stood beside it and still stands. Now next to Ijsbrand's House. IJsbrand developed and built this house himself, together with family and friends. The first pigeon loft was made on the farm site almost 50 years ago… of old doors. In the years 80 to about 1992, he had flown together with Jos Maas for a number of years. Jos now still has pigeons in Heemskerk. They flew the program races in the beginning. They soon switched over.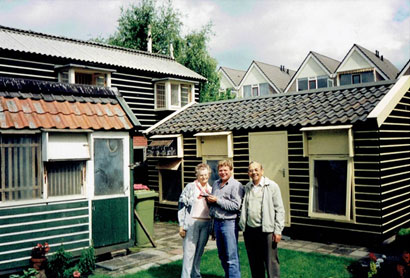 IJsbrand with his parents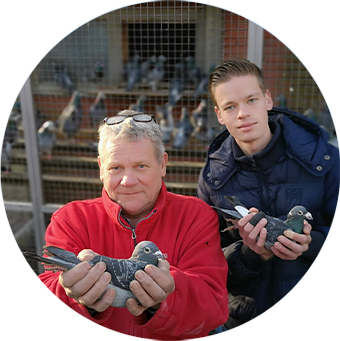 IJsbrand Kaptein
with Tijmen Soeterbroek
Together never alone
In recent years IJsbrand has the support of his neighbor Tijmen Soeterbroek. A young enthusiastic pigeon fancier. Besides being a part of the care, he does the administration around the pigeon sport, like the breeding charts. Together they share the passion for pigeons and they complement each other where necessary.